Center is capable to offset the deviation between the tube center and B axis center to improve the trace precision during cutting. So, it is necessary for TubePro to get and offset the deviation  by Center before actual processing.
There are various Center methods for different tubes.
       When the file is imported, TubePro is able to recognize the tube types and match corresponding Auto Center Methods for it, generally Auto Center can meet the demands in most situations.
If there are more that one Center methods for the very tube, you're allowed to select Cente r methods as needed in Quick Setting of Debug, like two Center methods for rectangular tubes, also angle steel.
         If the angle of angle steel is not 90 degrees, or there are chamfers on the edge of angle steel which may effect Center precision, it is necessary to apply L Steel Seek Center.
         As for other situations, EdgeSeek Center is recommended.
If there is no recommended Center methods by TubePro for current tube, you can choose one for it manually, here is a table for reference.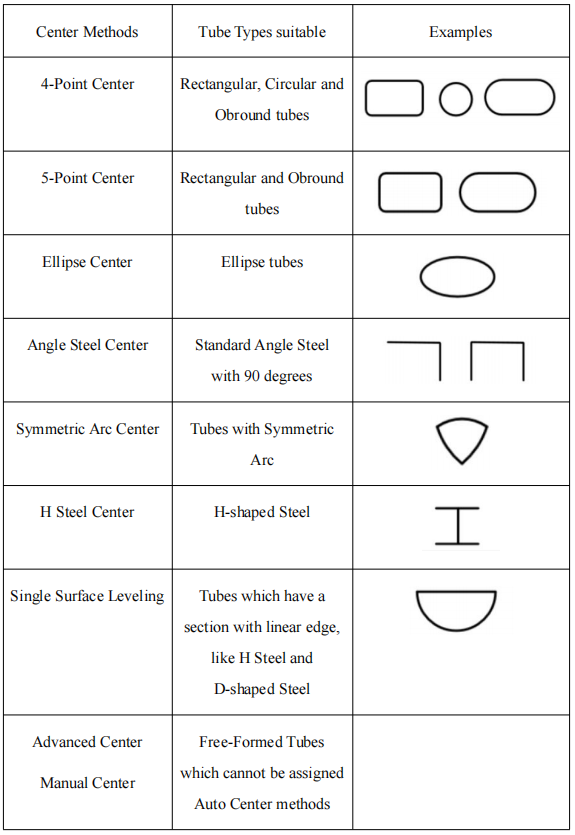 Notes:
          All tubes should be corresponding to the position in the drawings imported, if the angle deviation is too large, you can keep them almost same by Single Surface Leveling or Set Current Pos as Center.