To improve the cutting quality of part corners, you can set designated parameters in Corner, Layer.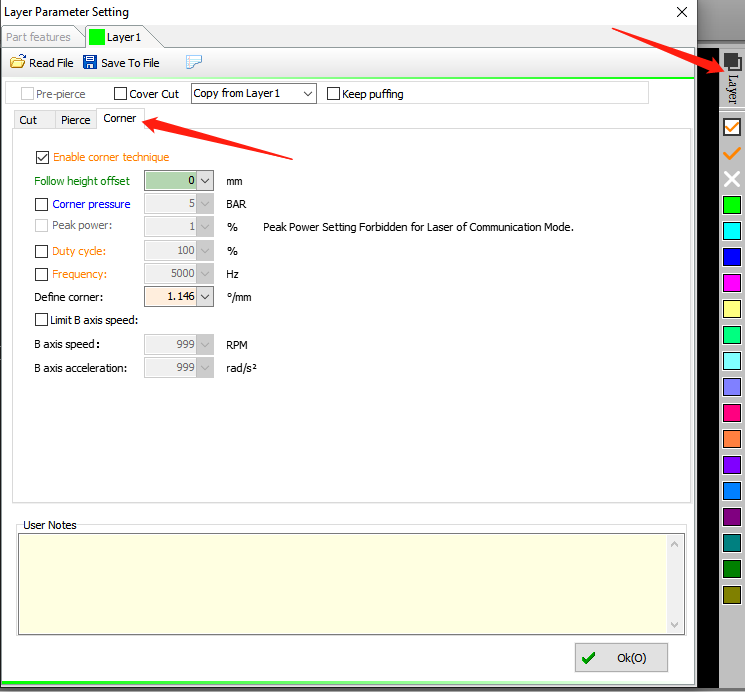 Enable Corner Technique is to realize better cutting result of part corners, in which you can modify Follow Height Offset, Corner Pressure, Peak Power, Duty Cycle, Pulse Frequency, also Speed and Acceleration of B axis.
Parameters Definition:
         Follow Height Offset: Actual nozzle height is the sum of Cutting Follow Height and Follow Height Offset.
         Peak Power: If peak power of the laser is controlled by DA, you can configure separate Peak Power when cutting the corners.
         Duty Cycle: You can lower the duty cycle to avoid part burn when it is cutting the corners.
         Define Corner: It is TubePro's judgement rule of corners, which means B axis rotation angle when the cutting head move 1mm in X direction. The default value is 1.146°/mm.
         Limit B Axis Speed: When cutting various tubes, B axis speed and acceleration will influence the cutting quality of whole section. In this case, it is possible to achieve better quality and higher efficiency.