Create Fly Cut Toolpath
Fly Cut is a technology for high-speed cutting application. Laser head performs the cutting without lifting up and maintains a continuous high speed which makes it looks like floating
on sheet. This method usually applied in arrayed graphic cutting like circles and squares.
The difference between normal toolpath and fly cut toolpath production is how laser head moves in travel path. In normal cutting, laser head will lift to a preset height after finish
toolpath A, then locate to toolpath B and follow down to start cutting which involves more speed change and travel time; while in fly cut, laser head doesn't lift up and maintains
in cut height then locate to next toolpath directly and start cutting, this method allows laser to keep a high speed and less travel.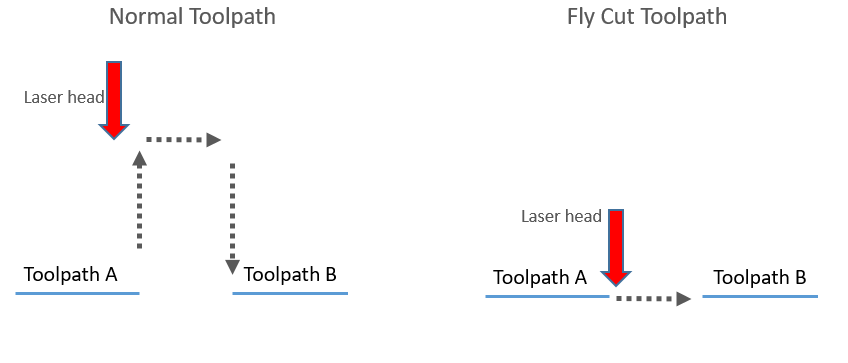 Below is the typical drawing to create fly cut toolpath in CypCut, for more complicated fly cut pattern please check in CypNest. 
The parts drawing have been created fly cut toolpath successfully connected with dotted line. If there are parts drawing not connected with dotted line, please adjust parameter setting.