Find Workpiece Edge and Displacement Angle
Find Edge is to detect workpiece edge and part zero, especially when the sheet material not up straight placed on machine bed.  
Application Scenario
How to Enable the Function in CypCut
Open machine config tool, in advanced setting > find edge parameters, check the options.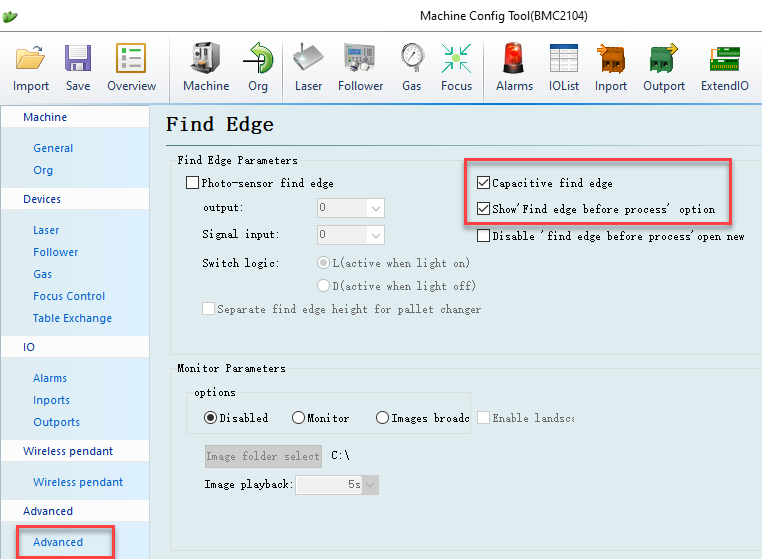 If you check 'show find edge before process', in CypCut control panel you can see below option, otherwise this option is unavailable. Enable this option, program will execute
find edge automatically before start production.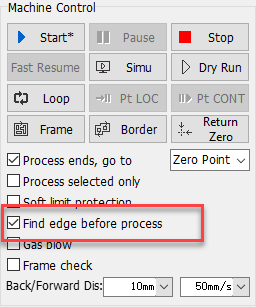 Operation Guide
Click Find Edge function button open parameter window. 
1.Input sheet dimension in X and Y axis. The margin is to make sure the part zero located inside sheet material, if you have left margin in drawing, then you can put zero here;
2.3-point strategy just works like image above, machine will detect P1, P2 and P3 on sheet edge, then calculate part zero and sheet rotation angle automatically;
3.Start point is where to start find edge process. The start position related with the zero reference setting which decides the orientation of part zero to the machine bed. If you
select bottom-right, you should locate laser head to bottom right of workpiece to start find edge, you can see a cross with red dot which is the zero reference mark.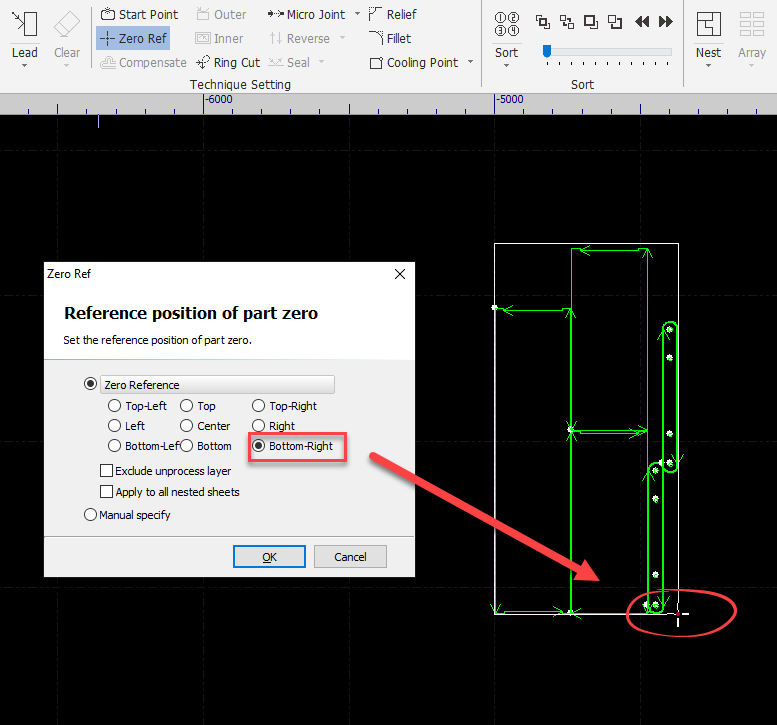 Advanced Setting
You can adjust find edge parameters to improve precision of workpiece edge detection. 
Find edge speed: the speed at which laser edging out of the workpiece;
Find edge height: the constant distance between nozzle and workpiece surface in finding edge;
Correction: manually offset zero point position;
Rack dif: the interval distance between slat tip, this is to avoid capacitance interference from slat;
Notice:
1.Make sure machine returned origin and build correct coordinate before execute find edge.
2.Input correct sheet size, otherwise machine will run to position without sheet underneath and collide into slat.
3.The dislocation angle of sheet shouldn't be larger than 10 degree.
4. Must locate laser head inside sheet at proper position before find edge.