Sometimes, there will be a little error of the sections dimension because of poor precision when you import the drawings in TubesT, which leads to that the parts with same dimension originally cannot be nested on same tubes.
       For example, these parts below have same radius originally, but they are sorted as two.
Solution
        Select these three parts and right click the mouse, choose Force Merge, then the sections with little difference will be merged into one.
       The Merge precision can be set in User Habit Settings as shown below: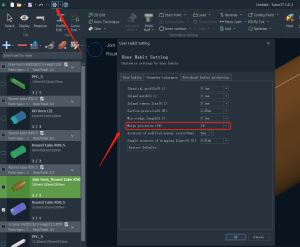 Merge precision will be 1% by default.
Note:
         If the dimension of parts section changes too much after Force Merge, there may be something wrong in cutting path, so please check the cutting path after this operation carefully.
         But different with Dimension Tolerance, the parts merged will not have a new standard section, but the one with largest dimension.