Dimension Tolerance
        There may be little difference between the drawings for the same tubes due to the precision problem, for example, a batch of drawings for the tubes of R38, but actual sections imported in TubesT may be R50.5 or R49.5, which leads to a result that there are three sections in TubesT and they can not be nested on the same tubes as they are considered as three kinds of parts.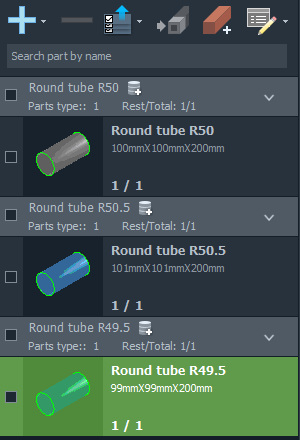 The nesting result for three parts are shown as below,

        To solve the problem above, you can apply Dimension Tolerance.
Steps:
Click the User Habit Settings icon on the upper left, and enable an option pointed in the picture.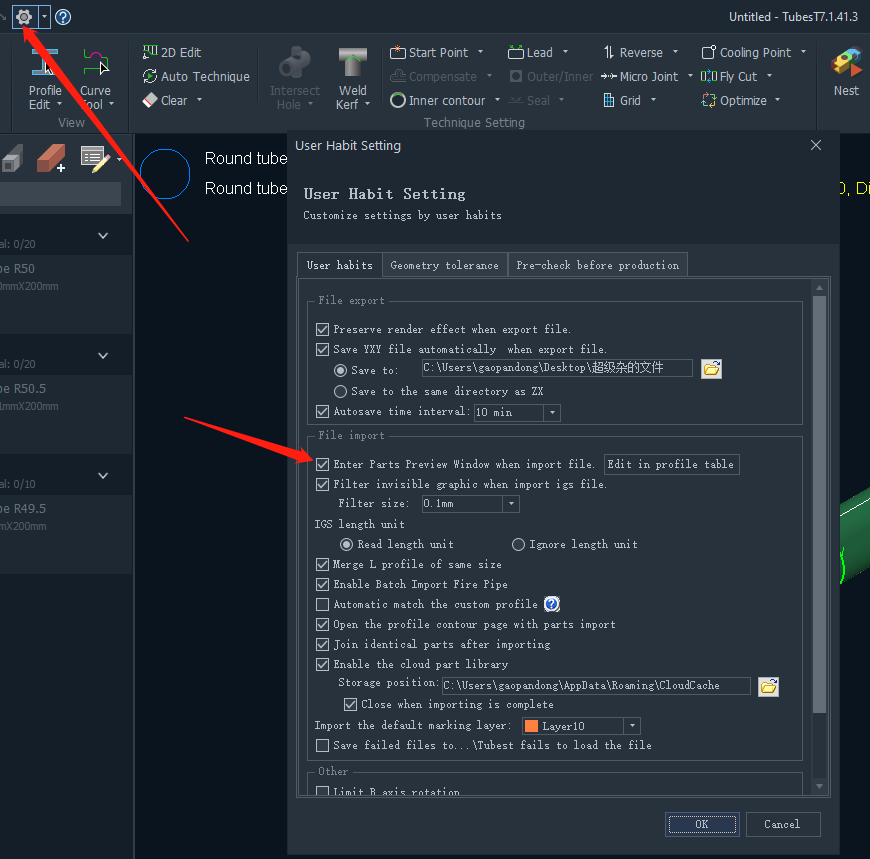 Click Import from Files to import a part as the reference.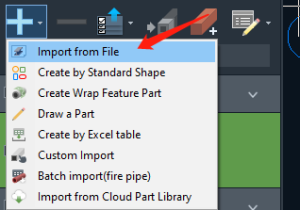 In this process, there will be a pop-up window named IGS Overview, just click OK to ignore it temporarily.
When it is finished, click this icon to add this part section as the standard in Section Data Library.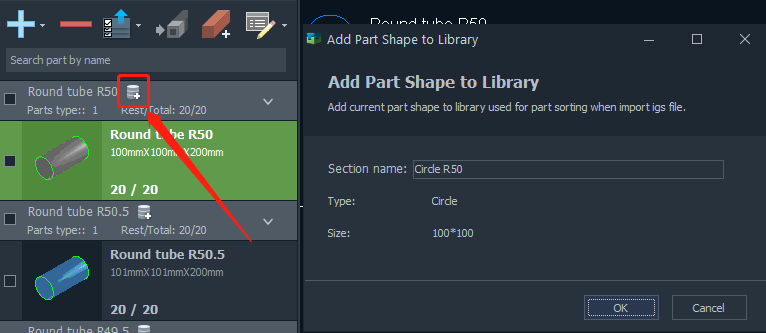 You're allowed to add a customized name for the very section.
Again, import the parts with similar dimension in the same way to above, like R50.5 and R49.5. In IGS Overview, you can see actual size of the parts to-be-imported and also the sections which are going to be recognized in TubesT.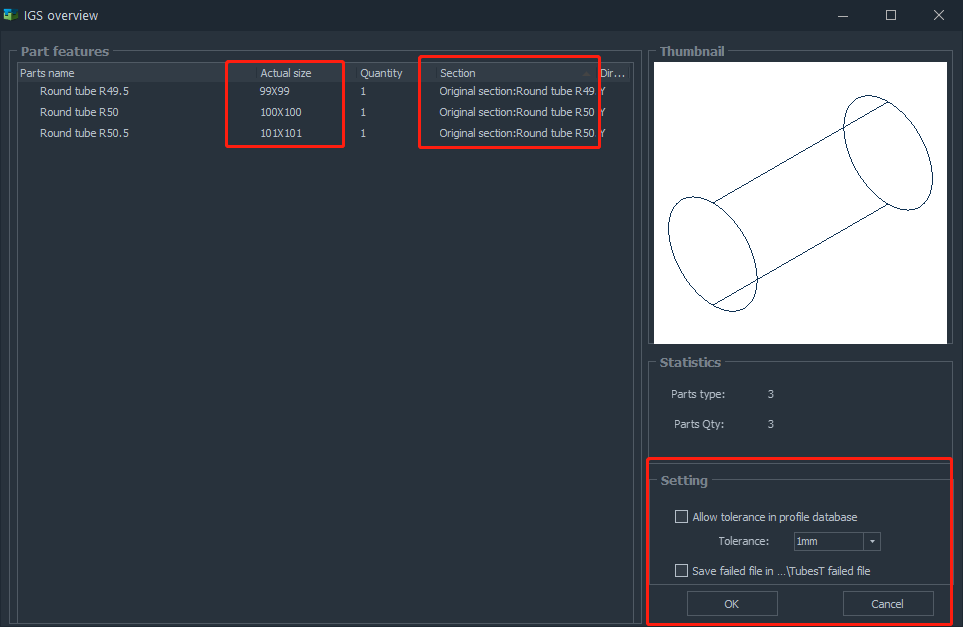 Enable Allow Tolerance in Profile Tolerance and set proper parameters for Tolerance, then you will find that the tubes of R49.5 and R50.5 are recognized as R50.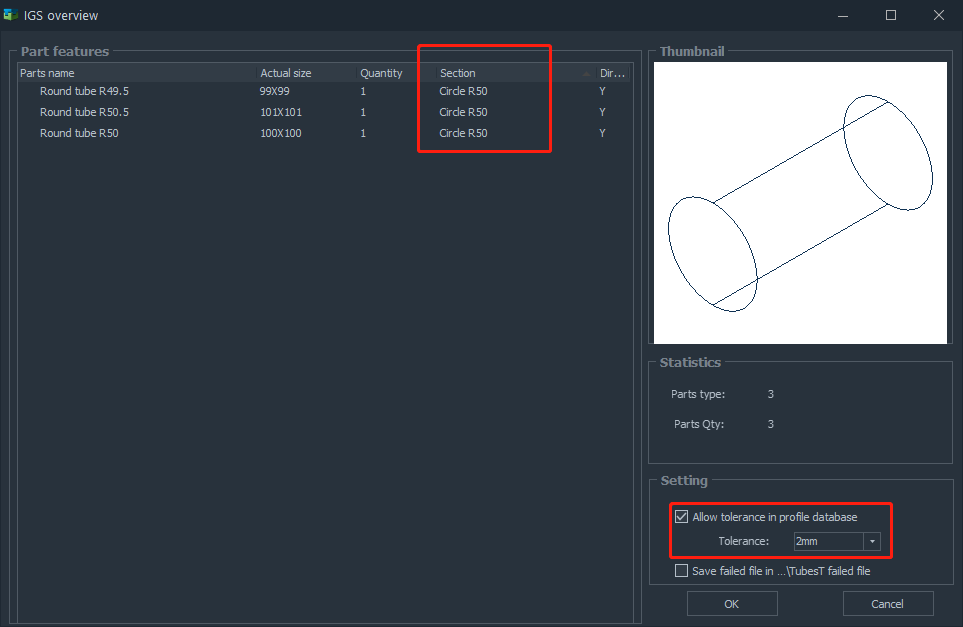 When imported, the parts will be sorted in the same section, R50, which can be nested on the tubes together.
          Besides, you're allowed to check the Sections Data Library to see the sections saved, which can be deleted manually by click "-" icon.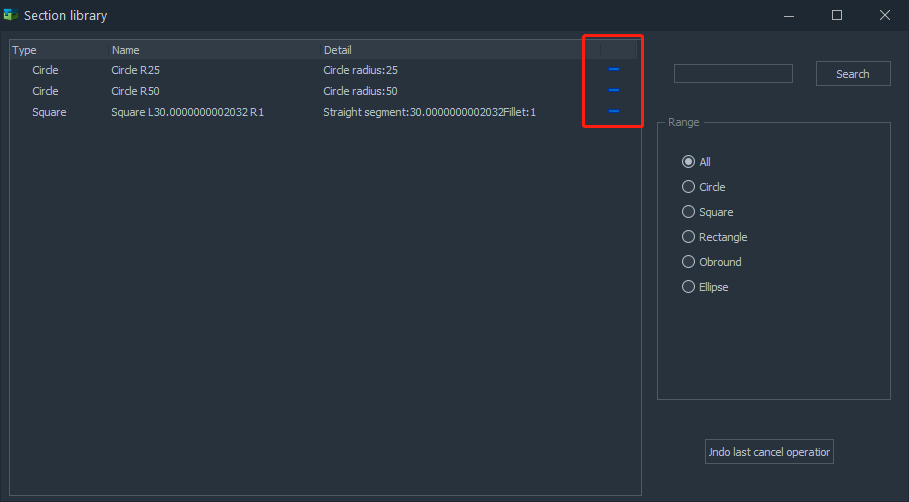 At present, Dimension Tolerance is only used for Round, Rectangular, Square, Obround and Oval tubes.
          Occasionally, the prats of standard round tubes will be recognized as free-formed ones because of drawing precision, which can not be nested with the parts with same diameter. In this case, Dimension Tolerance still works.
Force Merge
         In addition to Dimension Tolerance, you can apply Force Merge to merge the parts with similar dimension into integrated one. However, different with the former, the parts designated will not be merged into a specified dimension, but the largest one among the parts selected.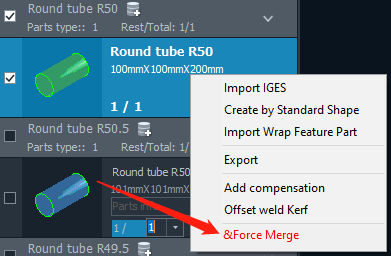 You're allowed to set tolerance proportion in User Habit Settings for Force Merge, it is 1% by default, which means the parts with 1% dimension error will be merged into one.