When all mechanical structures are assembled, B axis will rotate around a fixed spiral center, whose coordinates in XY plane needs to be calibrated by Calibrate B Axis Center.
         A standard rectangle tube is necessary to ensure the result of Calibrate B Axis Center is accurate as shown below.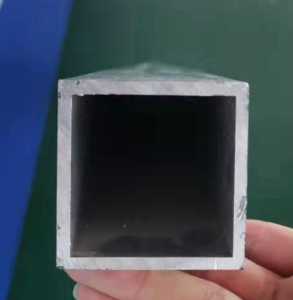 Before it, you should ensure X, Z and B axes has returned origin. Then move the cutting head to the above of this standard rectangle tube, input its width and height correctly, finally click Start.
         Click Save to save the result and exit after it is finished.
Notes:
         Unless the mechanical center has deviation, do not calibrate B axis so often once this process has been finished.
         The precision may be effected if you do the calibration with a rectangular tube which has chamfers.
Parameters Definition: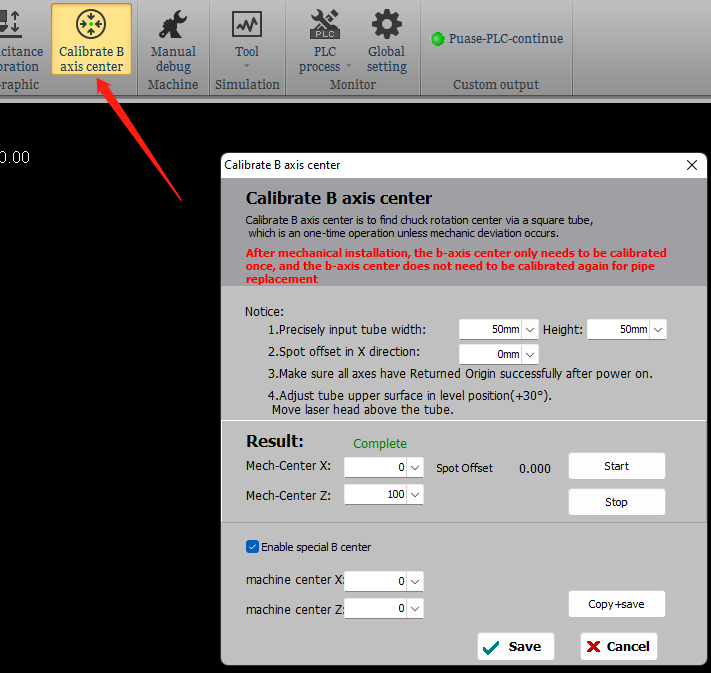 Tube Dimension: Set the width and length for the to-be-calibrated tube correctly, a rectangular tube without chamfers is recommended.
         Spot Offset in X Direction: Set the spot deviation of current cutting head. Generally it will be used in such a situation where the laser spot is not at the center of the nozzle which may cause position error between the holes in same X coordinate since TubePro get the B axis center on the basis of the nozzle center.
         Result: It gives the coordinate of mechanical center calibrated.
         Special B Center: If there is a special machine, which may change its mechanical center for different cutting situations as Seven-Pull and Mid Chuck Dodge, it is necessary for you to set a special B axis center in advance. TubePro will apply the B axis center calibrated above during normal cutting, and enable Special B Axis Center by PLC when the mechanical center is changed to improve cutting precision.
         Copy+Save: Click this option to copy the B axis center above to special B center.
         Save/Cancel: Click Save to save current calibration result as B axis Center, Cancel to exit without the result saved.